Michelle Andonion have been photographing the children at risk around the world for providing a better future for them by raising awareness. Now, in her book "This Picture I Gift", which was published on September 2015, she travels to the past of her family, Armenia and Anatolia by following the footsteps of her grandmother Sara.
What kind of an influence does the past of your family have on your work?

My father's parents were both born in Sepastia and my grandmother was from the village of Ishkhan. 
I was born in Detroit, Michigan in a neighborhood filled with Armenians, many who were survivors of the Genocide and the first people I photographed. The lessons taught and stories told by this generation have inspired my work throughout my career. 
As long as I have been able to hold a camera, I have taken photographs. The camera has allowed me to travel the world and my roots have kept me grounded with a deep connection to family and home.
What do you want to say about your relationship with your grandmother?
Both of my parents worked so much time was spent with my Grandmother, she lived in the house next door to ours, so it was a very close and loving relationship. Her kitchen was the safest place on earth to me. It was that room where I would always be set down in the chair at the table as she cooked and told stories. She made me feel like I was the most important person in her life, but that is what was amazing about her—everyone who knew her felt that way.
It was in that kitchen that I recorded her telling me what she remembered about surviving the Genocide.
In the background you can hear the pots and pans clanging, the phone ringing the water running as she moved about her small kitchen remembering her home in the village, the horrors of the marches. It was that tape that gave me the names of the villages and towns she walked though during the marches, and allowed me to travel to many of the places she was- as best I could -before she traveled to the America in 1922.
How was your experience in Turkey while doing this story?
My experience in Turkey was life changing in many ways. It is where my ancestors were from, and to travel to the places that they had once lived was humbling, inspiring and at times, heartbreaking. 
What I experienced was a coming home to a place I had never known as home. 
While riding a ferry on the Bosporus on a warm summer day, my friend Aram looked out on the city from the sea and said, " Your Grandmother never forgot this place." I too, will never forget it.
Why was it so important for you to do this story?
This work was 25 years in the making as I have traveled to Armenia and Turkey several times looking for the threads to hold onto my roots.
In the Diaspora, we become influenced by other cultures and traditions through marriage and geography.
My family was Armenian- but we were also Dutch, French and Irish. Being the grandchild of a survivor gave me a connection to Armenia that the next generation would not have. I wanted to preserve and honor our history for them.
What affected you most throughout this search for the story?
Traveling throughout the interior. I don't think it is possible to completely comprehend how vast the landscape is and truly understand how many Armenian villages, cities and churches there were in Historic Armenia prior to 1915 unless you actually go to where they once were. I will never be the same after that experience. There are many spirits in the earth and the mountains.
When standing inside the remains of the churches, birds flew in and out of the roofs now open to the sky.
The memories of all the children that now live in many of the villages have stayed with me knowing that not only that many may have Armenian blood, and that today, as Kurds they are at a similar risk as the Armenians where 100 years ago. 
The ancient city of Ani is so significant to Armenian culture and history and is truly amazing. The border of what was and what is- separated by a ribbon of water is a place I have no words for. It is a place that still calls back to me.
But nothing could prepare me for the heartbreaking reality of the complete erasure of the Armenians of Sepastia when I arrived in Sivas. I was desperate to find something that said we were here as I walked through the city. All that was left were the ghost gardens of the past, hollyhocks and roses growing in the vacant yards of homes long empty. Hollyhocks became a symbol to me, growing from seeds planted long ago. They grew like sentinels in front yard of a former church in Adana and inside the roofless church in Moush as well as in the yard of a hope in Sepastia.
Were you alone on this journey? How did you find your way around? Who helped you? How long did it take? Anything extra you want to say about Seropyan and his contribution to your search?
We traveled over two thousand miles in ten days throughout the interior. The trip began with a visit to the offices at Agos with my friend and colleague Ani Boghikian Kasparian, who was researching for her book the experiences of the Armenians who lived in the eastern provinces post genocide.
We met with Baron Seropyan who introduced us to Ferzan Demirtas who guided us. Every day Ferzan received calls from him as he checked in with us and to review the itinerary and make changes along the way.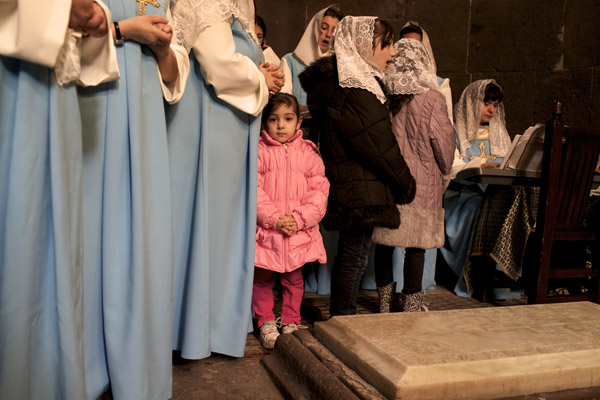 How did you come up with the title of the book?
The title came from a note that was written on the back of a postcard sent from Istanbul to relatives in the United States in 1920. The front was a photograph of my grandmother with her aunt and uncle. On the back was written in Armenian "this picture I gift" it seemed to say—this is who we are, your family. All three were survivors of the Genocide. 
The title also resonated with me as to what the photographs I took represented- a gift to the next generation of what I experienced and could bring together in a book, Historic Armenia and present day Armenia together as one.
And what's your hope with this book?
My hope is that it preserves the memory of those who came before us, and raises awareness to many who do not know the Armenian history. 
As Armenians in the diaspora—have become assimilated to different cultures. In my family I am half Armenian, my nieces and nephews are one quarter Armenian, I never want them to forget where their ancestors came from. I would hope that through this work it will inspire others to preserve the stories and the culture that came before them.
"Hope dies last"
You collaborated on a multimedia piece called 'Hope Dies Last'. How did this idea of combining your images with a musical performance come about? Also how the title came about sounds interesting. Can you tell us about it?
Combining imagery with music is something I have been experimenting with for the last several years to try to find a way to connect the audience to the story by telling it in different ways. The collaboration of working with composers and musicians brings a collective inspiration to the performance, which resonates with the audience in ways that they cannot do when presented separately.
Many years ago Archbishop Paren Avedikian told me a story of a man who survived the 1988 earthquake in Armenia. The man had lost his entire family, his legs and his arms.
When the Archbishop asked him how he could go on after so much pain and loss he responded, "Because hope dies last." Those words stayed with me for years.
You have spent many years photographing children's philanthropic programs around the world. Why was this important? How was it as a human experience?
Documenting children at risk around the world is humbling. As difficult as their lives are, there is an innocence and strength that exists in all children. Bringing awareness to others by telling their stories can bring hope and possibility for a better future for them.
Excerpt from book

"I realized, while recently reviewing my photographs taken over the years in Armenia that the visual thread running through all of them was the preponderance of children and grandmothers. All along, I have been looking for the connection I had lost with the death of my own grandmother. To find some sort of healing for the trans-generational grief that so many of the children, grandchildren and great-grandchildren – all survivors of the genocide, carry within our souls. Our family histories have been left on a mental map within us."

"Recently, I found a postcard; on the front is a print of the same photograph that was

taken in Istanbul, mailed by Auntie Miriam to a relative in Detroit before they sailed to America in 1922. Written on the back was, 'This picture I gift.'"

"Seropyan, the beloved editor at Agos, helped me plan my trip to the interior. In an office crammed with desks, newspapers and books, Baron Seropyan leaned forward with a magnifying glass, focusing on a map of eastern Turkey, the land where Armenians lived for 2,500 years, until 1915. This map listed the Historic Armenian names for the present Turkish-named cities, towns and villages. He knows this land well. He pointed out the village of my grandmother, charted the journey, arranged our guide, and told us he would call to check in every day as I traveled. When we were finished, he invited me to join him for coffee.

As we entered the outdoor patio, I was startled as a dove flew right in front of my face. Long tables were filled with journalists sharing stories in hushed tones; there was a serene sense of urgency in the work they were all doing. Two birds, one flying back and forth, passing small twigs with its beak to the other, gently build a nest in the canopy at Agos. Doves are symbols of peace. The spirit of Hrant Dink seems to be present among them."