Today, in Agos' archive, there is Surp Kevork Church known as "The Red Church". Recently, its door was broken down by the security forces. In 2013, Agos published a story on this historical church and the last Armenians in Derik.
The Red Church in Derik*

Blacksmith Naif is one of the traces left of Armenians in the streets of Derik, where thousands of Armenians had been living until 1915. In Derik, everybody knows where his shop is located. They say, "Blacksmith Naif is the only one here." Naif and his wife Yursali are the last Armenians in Derik.
Naif is sitting with the neighboring shopkeepers in front of his smithy. His neighbors speak before him and say the same thing: "Blacksmith Naif is the only one here." The loneliness of the famous Blacksmith Naif finds voice in these words again.
Naif greets almost everyone in the street and we head to his home together. The key of the church is at home. "The neighbors have the key of the garden, but I don't give the key of the church to anyone." His wife Yursali Demirci welcomes us at home. She gives a break to her conversation with her neighbors. "There is no one left here. In the past, people were coming by from time to time, but now, no one comes."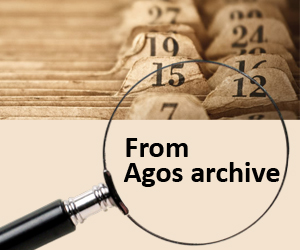 It is obvious why people left Derik. When we ask them why they haven't left, they say: "We don't have kids. And we are working here. We don't need to leave." She explains the significance of having children: "Children have to go to school. There is no school here. When their children grew up, people left for Istanbul."  Until 1915, there were 1084 Armenian schools within Turkey's borders and now, there are only 16 schools and all of them are in Istanbul.
After visiting their home, we head to the church. While we are passing through the narrow streets of Derik, Naif says, "Our people used to live here." He has nothing to say on their leaving and he also thinks that most of them won't return, but he feels disappointed because of not being visited once in a while. 
Surp Kevork Church resembles the houses in the street in terms of its architectural style. At the first glance, it looks like a house. Its garden is open. Görünen family, who live in the house across the church, is having a chat with their guests in the garden. They host their guests in church's garden. Children play in the garden full of trees. Blacksmith Naif unlocks the door of the church, as if it is his house. He repeats: "The neighbors have the key of the garden, but I don't give the key of the church to anyone." He protects the church like it is his own house.
"I have this key for 15 years. It is not even a church; it is registered as a house. We bought it. At one time, they used it as a stable. It was in a forlorn condition when we bought it. They had never maintained it. We cleaned it with our neighbors; I feel grateful to them. There was a priest in Diyarbakir and he was coming by once in a while. We conducted religious ceremonies here. Now, there is no priest in Diyarbakir. Then, people started coming from Turkey. Once a year. In the past, a lot of people were coming, but now, fewer people come."
He points at the huge trees in the garden and says, "We planted all of them." Then, he turns to the outer walls of the church and complains: "They plastered the stone walls. The top looks bad. I explained this situation to the Patriarchate when they came from Istanbul. They told me to find someone for restoration. I found some people and calculated the expenses. I am still waiting for their response for restoration. It doesn't cost much, but they haven't responded yet."
We continue our conversation in the garden. Hatun Görünen is almost 70 years old. She is sitting with her children and guests. Her daughter points at Blacksmith Naif and says: "They are the only ones left here. There were a lot of people in the past. People were coming from the neighboring provinces for the ceremonies. Now, no one is left. We are Muslim, but this is a place of worship. It was in a really bad condition. We don't have the heart to leave it like that."
The biggest concern of Blacksmith Naif, who is getting lonelier day by day, and his neighbors is the possibility that the church might be left to its fate after they are gone.
*This article was published in Agos on October 11, 2013.