Hrant Dink is commemorated on the 9th anniversary of his death in front of the building of his newspaper, where he was shot.
Friends of Hrant started to make arrangements for the commemoration ceremony that will be held in front of Sebat building at 14.30 today. 
A poster which reads "We are here Ahparig, with longing, anger and determination!" is put up on the building. 
Police forces established two control points. People who will attend the commemoration ceremony have to pass those points. 
In the morning, the commemoration area was evacuated in order to investigate whether there is any bomb. 
People began to march from Taksim to Agos building.
People carrying posters that read "For Hrant, for justice", "We are all Hrant, we are all Armenians" and "Shoulder to shoulder against fascism" began to march to Sebat building, where Hrant Dink was shot.
People also began to gather in front of the building of Agos.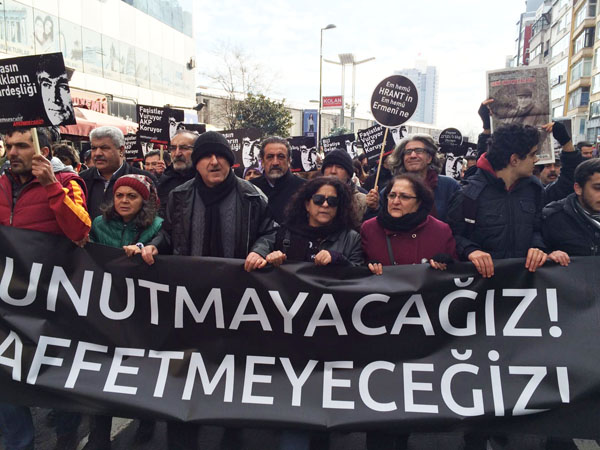 Here is the statement of Friends of Hrant: 

With longning, we are here, 

We long for the peaceful discourse of Hrant Dink which considers every human being, every language and every religion equal. 

With anger, we are here. 

The darkness that took away Hrant from us and make murderers out of babies continue to produce murderers for 9 years. That darkness spread all over the country and causes deaths everyday. We know, we are aware. Our anger is alive, what happened is on our minds.

With determination, we are here. 

For 9 years, we have been here against the ones who try to intensify the darkness. In order to remind the discourse of peace and truth which Hrant formed meticulously and for which he gave his life and to echo his voice, once again, we will be in front of Agos, where he was shot, on January 19 at 14.30.