Curfew is lifted in Xerabê Bava (Koruköy) and Talatê (Doğanlı) villages in Mardin. First photos from the villages show the destroyed houses.
Yesterday, the governor's office announced that the curfew is lifted in Xerabê Bava and Talatê villages.

On the 19th day of the curfew, the governor's office announced that the operations are completed and the curfew is lifted in Xerabê Bava and Talatê villages in Nusaybin district of Mardin city. 

First pictures from the villages are received.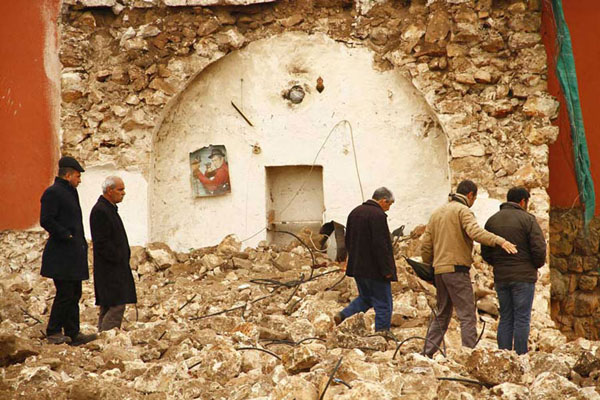 According to Dihaber, 6 houses were destroyed in Talatê village and many shell casings and tear gas capsules were found all around the village.
Abdi Aykut, Sabi Ayhan and Talatê village headman Muzaffer Sarı had been detained and referred to court. Sarı and Aykut are jailed.
Aykut's photos, which show that he had been tortured, was covered in media. It is reported that his house is burned down.
Held in custody for 17 days, Sabri Ayhan said that he hid himself under the stairs in his house to escape from the fire opened by the soldiers: "Bullets were raining down on our house. They stopped after we called the gendarmerie. And then, they made us leave the house."
Bayhan told about what happened afterwards: "When I was coming out of the house, they were beating me. They threw me to the garden and insulted me. Then, they dragged me for a while. They said, 'Don't tell us you haven't seen them.' I said I haven't. I said that I wouldn't have called the police station or the gendarmerie, if I was guilty. After that, they beat me again. They raked my house."
Saying that he was taken to the district gendarmerie station by an armored vehicle, Bayhan said that they used his house as "headquarter" and made a position on the roof.
Saying that many bovine animals, with which he made a living, were killed, Bayhan said: "They killed and ate most of my chickens as well. There are only 3-4 left. They burned all my woods and grilled chickens on them. My pregnant cow is also dead. I had been making a living with those animals."
Another villager Ahmet Göktaş said that they hadn't even allowed them to go to mosque. 
Villager Hatice Bayhan said that a room in her house was used as a bedroom by the soldiers and they occupied the kitchen and bathroom. Bayhan said that she went to the hospital and saw that there is nothing left in the house when she returned.