Today, in Agos' archive, there is an article by Sarkis Seropyan, who passed away last year and who was the Armenian editor and the "memory" of Agos.Seropyan commemorates Aleksandr Saruhan, the only world-renowned Armenian caricaturist, on the anniversary of his death.
Once, there was Saruhan*

Most of the time, when Armenian artists seek for a place to perform their art, they have to go to foreign lands and blossom there. The young caricaturist Aleksandr Saruhan was the living example of this fact. But luckily, he became a world-renowned caricaturist, though he lived in Cairo.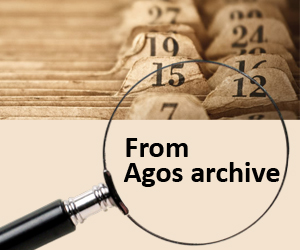 War, separation and humor
The famous caricaturist was born in Ardanuç, the capital of Bağradit Dynasty, on October 1, 1898. However, when he was just 1 year old, they moved to Batumi with his 3 sisters and brother. Aleksandr and his older brother Levon dropped out Batumi Gymnasium. In 1909, they moved to Istanbul and they went to Mıhitaryan High School there. Since Saruhan's father returned to Caucasus because of financial problems and the WW I erupted, he lost contact with his family; at the age of 56, he met his sisters in Erivan. During their school years, Saruhan brothers managed to prepare and publish two humor magazines called "Hay Badani" and "Mangagan Punç", but after, they had to burn them all.
Unwilling to content himself with the job he found in an English company after the war, he put his first caricature into Gavroş magazine's editor Yervant Tolayan's mailbox, because he didn't have the courage to deliver it by hand. Thanks to his published caricature and the support by Tolayan, his works were published in major magazines, newspapers and almanacs in Istanbul and even in the US.
He went to Vienna in 1922 and after 2 years, he moved to Cairo. Though he chose to be a caricaturist, he also worked as an art teacher. Meanwhile, he worked with the famous humorist Yervan Odyan, who came to Cairo.
Saruhan on international media
From 1927 onward, Saruhan's drawings had always been published in Arabic media. His works were also published in French and English periodicals and newspapers and he worked with several newspapers and periodicals: "Zartonk" newspaper published in Beirut and "Ani", "Şirak" and "Zıvartnotz" magazines published in Paris. Between 1938 and 1942, he published French humor magazine "La Caravan".
Saruhan's characters and exhibitions
Saruhan, in Arabic media, created characters like "El Masri Efendi", "Arabi Efendi", "İşsa Hanım" and "El Maksut Efendi" and created the sequel of famous "Yoldaş Pançuni", "Yoldaş Khırfuni" in "Arev" newspaper.
Holding his first exhibition in 1927, Saruhan held his fourth exhibition consisting of social characters in 1952. His last exhibition was held in Erivan, Leninakan and Kirovakan in 1968 with the occasion of his visit to Armenia.
A humorists' association from the US awarded him for his contributions to peace. In 1955, he received legion of honor from Lebanese government due to his exhibition Beirut.
Aleksandr Saruhan passed away, but his characters are as alive as ever.
*This article was published in Agos on October 30, 1998