Today in Agos' archive, there is a report about the reasons why the Patriarch Mesrob II Mutafyan hadn't attended the food offerings ("love tables"). Since 2008, he has been in Surp Pırgiç Hospital because of his serious illness.
 The Patriarch won't attend madaghs this year*
135th anniversary of the foundation of Kalfayan School and the traditional madagh ceremony took place on November 18 in Kumkapı Surp Asdvadzadzin ("Holy Mother-of-God") Patriarchal Church. Leading the morning ceremony, the Patriarch Mesrob II Mutafyan noted that Kalfayan is an important Armenian institution along with Tıbrevank and Karagözyan and said that he won't be attending any public food offerings ("love tables") this year.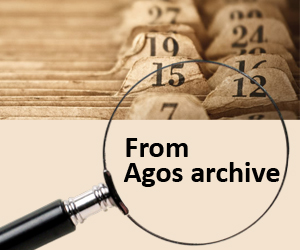 After the ceremony, congregants attended the food offering in Kazaz Artin Amira Hall where the art exhibition of the students of Kalfayan welcomed the guests. Kahana Kirkor Damatyan led the food offering. Hosrof Köletavitoğlu, the head of Madagh Organization Committee, thanked the congregants for their donations even though there is an economic crisis. The traditional announcer of madaghs, Baron Nalbant, invited the benefactors and congregants to meet the deficit of the institution. While people were giving the lists to Baron Nalbant, students' choir were singing songs and reading poems. At the end of madagh, it was declared that 60% of the deficit is met thanks to donations. The next madagh will be held in Bakırköy Surp Astvatzatzin Church.
The Patriarch's reason
The Patriarch Mesrob II Mutafyan declared his reasons why he won't be attending the food offerings. Stating his reservations about the food offerings, the Patriarch made a call advising that the benefactors shouldn't reveal their identities; during the food offerings that take place in the hall near the church, people should obey the etiquette and protocol rules; and people shouldn't consume more than 1 glass of wine, which is the tradition.
*This article was published on November 23, 2001 in Agos.