On the 4th day of intense clashes in Karabakh, an announcement concerning a "reciprocal ceasefire" came from Karabakh Ministry of Defence.
According to hetq.am's report, "As of noon today, local time, the armed forces of Artsakh and Azerbaijan have agreed to put a halt to the fighting along the line of Contact given that Minsk Group negotiations are underway in Vienna."
The ceasefire announcement is confirmed by Artsakh Ministry of Defence Spokesman Senor Hasratyan, according to hetq.am.
Karabakh Prime Ministry Press Secretary Artak Beglaryan also stated that "As of 12.00 pm local time, a ceasefire is agreed along the Azerbaijani-Karabakh border."
At the beginning, Azerbaijan denied the announcement made by Karabakh and Azerbaijani Ministry of Defence stated that they haven't received any information about a ceasefire. However, the ministry later made another statement and announced that the ceasefire began as of 12.00 pm local time. It is also stated that they took precautions for tightening the security measures in the clash zones "that were liberated before."
Armenian Ministry of Defence Spokesman Artsrun Ovanissyan also stated that an agreement on ceasefire in Karabakh is underway. 
It is reported that clashing parties (Karabakh and Azerbaijan) decided not to use heavy gauge weapons against each other. According to Artskah Press, Azerbaijan's "aggressive actions along the border have been passivized in the last hours."
On the evening of April 4, Karabakh Ministry of Defence provided information about the clashes that have been going on since April 2. According to the ministry's statement, with the 4th day of the clashes, 20 Armenian soldiers were killed, 72 were injured and 26 is missing. 4 civilians, one of them being a child, were killed. The ministry also claimed that 300 Azerbaijani soldiers were killed. 
And Azerbaijan made a statement on the morning of April 5 and declared that 16 Azerbaijani soldiers and 70 soldiers from Karabakh region were killed.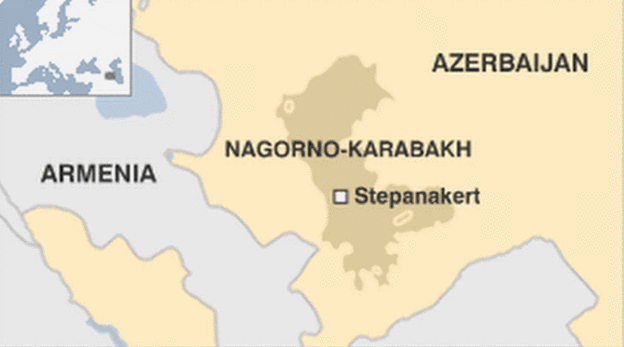 On the other hand, Azerbaijan declared that they seized Matağis village on the border region of Karabakh. Karabakh Ministry of Defence denied this claim and defined it as "the lame propaganda" of Azerbaijan. 
Karabakh Ministry of Defence also stated that, starting from April 5, Azerbaijan began to use heavier arms against Karabakh. According to the information provided by the ministry, while Azerbaijan continues attacking the villages, they are also using heavy multiple rocket launchers (Smerch)  along the boundary lines. It is also pointed out that the clashes are getting more and more intense. 
Karabakh Foreign Minister: it's not about land, it's about self-determination
Last evening, after Azerbaijani Foreign Minister, Karabakh Foreign Minister Karen Mirzoyan also went live on CNN. The reporter reminded that Azerbaijani Foreign Minister said, "Probably Azerbaijan is the most interested party for the peaceful settlement and peace talks. But we need a result from a point of view that our territory is under occupation," and asked about Mirzoyan's response to that statement. And Mirzoyan responded: "It's not about land, it's about self-determination. 25 years ago, people of Karabakh voted for independence. These people expressed their will of self-determination."
Tension along the Armenian-Azerbaijani border
Today, the tension increased along the Armenian-Azerbaijani border. Armenian Ministry of Defence stated that Azerbaijan opened fire to Berdevan and Koti settlements and military reservations on the north and east of the Armenian-Azerbaijani border. It is also claimed that a soldier was injured. 
Attack against volunteers' bus
It is reported that, while the clashes continue along the border, Armenian civilians from all ages were enlisted as volunteer soldiers for fighting along the border. The buses that carries the volunteers going to Karabakh from Sisian region was struck by a drone of Azerbaijani military. According to the report of azatutyun.com, 7 civilians on the bus were killed. 
Phone call form Biden to Sargsyan and Aliyev
Vice President of the United States Joe Biden called Armenian and Azerbaijani presidents and urged them to find a solution for Karabakh conflict. 
Biden, in his message he shared on Twitter, said, "As I told Presidents Aliyev & Sargsyan, comprehensive settlement in Nagorno Karabakh is critical for their stability, security, prosperity."
It is also stated that United States Secretary of State John Kerry and Russian Foreign Minister Sergey Lavrov talked on the phone about Karabakh conflict. 
According to the written statement of Lavrov, "The US, France, Russia and OSCE Minsk Group declared that they will do whatever they can for resolving Karabakh conflict."