Hrant Dink is being commemorated in Istanbul in front of his newspaper Agos on the 8th anniversary of his passing. You can follow developments here live.
The crowd of thousands who gathered in Taksim are now about to arrive in front of Agos. As the vigil in front of Agos continues, Hrant's friends are being greeted in front of the newspaper.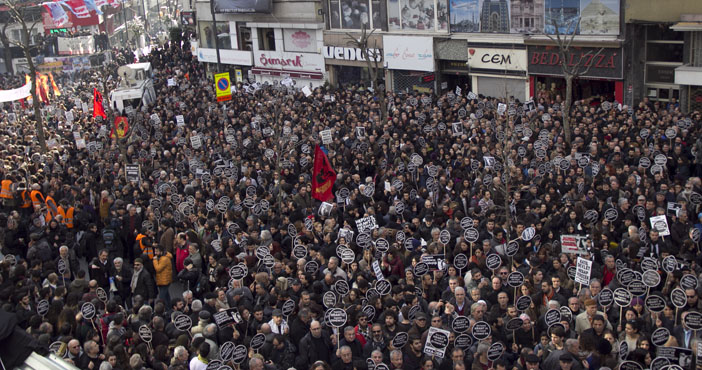 Slogans in front of Agos, 'We are all Hrant, we are all Armenian', 'This trial won't end before we say so'.
A group carrying an image of Hrant Dink's eyes. Similar images were used recently in the aftermath of the Charlie Hebdo attack across the World, featuring the eyes of the cartoonists who were massacred.
As thousands of people have reached Harbiye, the end of the cortege is in Taksim. The crowd chants 'Those who gave the order to kill must be tried'. 
The crowd marching from Taksim towards Agos are commemorating victims of the Roboski massacre, those who lost their lives during the Gezi Resistance and the children murdered in Cizre. Banners include 'This is Hrant Dink's Street, Hrant Dink's city, Hrant Dink's country' and 'From 1915 to Hrant, the massacre continues'.
Thousands of people have begun to walk towards the Agos building. The cortege is led by the Dink family, HDP Co-Presidents Selahattin Demirtaş and Figen Yüksekdağ, CHP members of parliament Umut Oran, Sezgin Tanrıkulu and Şafak Pavey.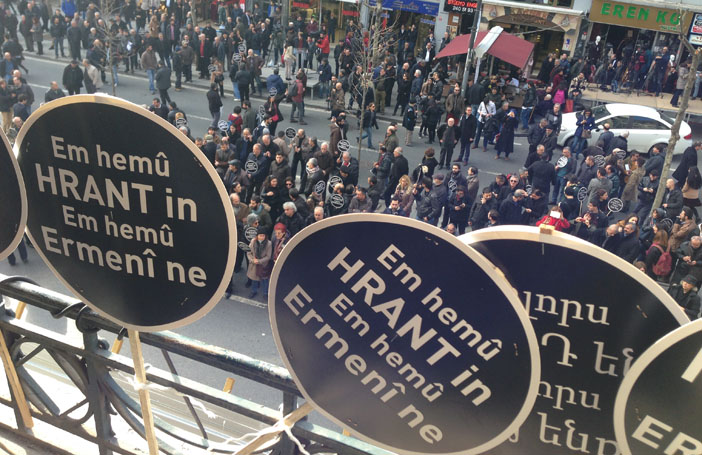 The crowd has begun to gather in Taksim. People are coming together behind the banner proclaiming 'Time to face Hrant! Time to face the Genocide!' prepared by the Hrant's Friends group for the 2015 commemoration.
Berkin Elvan's family is also at Taksim for the Hrant Dink commemoration.
Preparations continue in front of Agos. The People's Democracy Party (HDP) is collecting signatures for the petition to change the name of the street in front of Agos to Hrant Dink Street.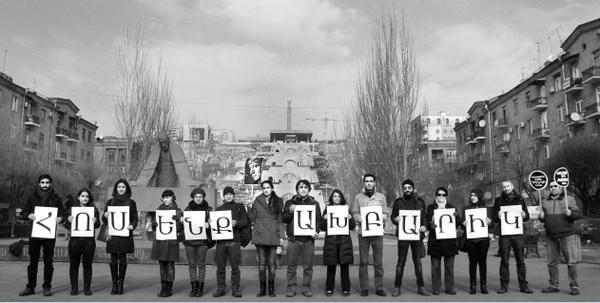 Hrant Dink is also being commemorated in Armenia. Citizens gathered yesterday in Yerevan and unfurled a banner proclaimin 'We are here Ahparig'.
A video prepared on the 7th anniversary of Dink's death: