Population of Greeks in Turkey decreased to 2500 and the lowest number of graduates in recent years has seen in Greek community's schools. 19 students are graduated from 3 schools; while this causes concerns, RUMVADER chair Andonis Parizyanos, Zoğrafyan High School Principal Yannis Demircioğlu and the former representative of Minority Foundations Laki Vingas stated that positive discrimination is needed.
19 students are graduated from Greek schools this year. Have you ever seen such a low number before?
Yannis Demircioğlu: I have been working as the principal for 21 years and the number of graduates have been ranging between 19 and 27 every year. Greeks in Turkey had 59 schools, only 5 of them survived. Still, we maintain an average number of graduates. 
How many Greek children are going to Greek schools?
Y.D.: There have always been parents who send their children to private Turkish or international high schools. As far as I know, there are 25-30 children who don't go to Greek schools.
After 2008 crisis in Greece, some people migrated to Istanbul. To which schools are those migrant children going?
Y.D.: Usually, foreign students are enrolled as guest students to our schools. Those are the children of consulate workers, foreign teachers, NATO officials and migrants. However, we have seen that some wealthy migrants send their children to American schools. If we want the migration to contribute to Greek schools, we should be able to give diplomas to the guest students. And the continuation of the migration depends on the current political atmosphere. I also want to note that Greek and Turkish languages are currently effective.
The number of graduates causes concerns. What should be done in order to increase this number?
Andonis Parizyanos: The number of students in our elementary schools has increased to some extent. We hope that the number of graduates will also increase in a couple of years. I mean, maybe there will be 20-25 graduates, we don't expect a substantial increase. The most realistic expectation is 25 graduates, I think.
Has the number of students in elementary schools increased now?
A.P.: There are 25-30 1st and 2nd grade students. This will affect the number of high school students and graduates. We are trying to improve the quality of education. We are always hopeful. However, unfortunately, with the current regulation, it is impossible to have a increase in the number of students. Only the Greek students with Turkish citizenship are enrolled as actual students. If the foreign students were allowed to be enrolled as actual students, we would have seen an increase.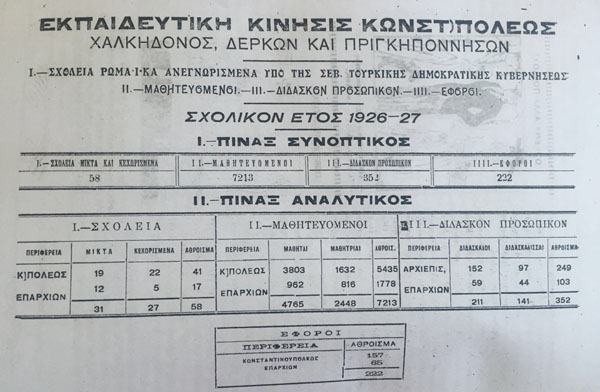 "There is an education vulnerability"
How many Greek students are there who don't go to Greek schools? What can be done for making Greek schools more preferable? Do you have projects?
Laki Vingas: There are a few Greek students who don't go to Greek schools. It is a matter of choice. Everyone has a different expectation in terms of education. Some people prefer a foreign language based education. Economic factors are also effective of course. 
The real problem is the fact that we have a limited number of students. Founded in 1454, Fener Greek High School is one of the oldest education institutions in Europe, but it has less than 50 students now. This troubles the administration. It is the same with Zapyon and Zografyan... These schools are centuries old and the last remaining institutions of Greek community. Their situation is alarming. Once upon a time, Istanbul was a leading city in terms of education, not only for the Greek culture in Istanbul, but also for the cultures in the entire Anatolia, Greece and Balkans. This is a huge decline and we are struggling for keeping the schools open. This is the most worrisome issue for me. 
As the Greek community, do you come together and act in unison? 
L.V.: For the last 20 years, Greek community has been discussing a restoration in education. There is an education vulnerability because of the low number of students. We have difficulty in taking radical steps. This is not unusual, since the history and tradition of those schools are so powerful that it makes taking radical actions difficult. As teachers, principals and opinion leaders, we have been discussing how we can improve our schools. We are discussing how we can form classes with more than 3 students, for instance. 
What can the government do about this issue?
L.V.: The government is not an obstacle to our efforts of improvement, restoration and arrangement. Those are community's decisions to make. However, the government and its institutions can support our efforts of increasing our population; this is the real issue. The only thing that the government can do about this is to provide new citizenship possibilities. For this, positive discrimination can be employed.