Armenian activist group ArtAct carries out creative actions against violence and harassment. The ArtAct group is trying to develop new methods beyond traditional activism in order to reach more people, and could inspire similar groups in Turkey.
We met them while researching the visuals for our report in the November 14 issue of Agos on their actions about pregnancy pay and domestic violence in Armenia. A collage featuring a baby who declares, "Don't steal my mom's money, she's working for me" seemed to convey a new message. ArtAct is a new and dynamic group founded in Spring 2014 in Armenia. The common thread that brings the group together - who design posters embellished with pop images, and seek methods to get beyond rallies with banners - is of course, first and foremost, their feminist outlook. And then, the question, "How can we communicate our message to more people?"

Liz McFadden, a member of the group, explains that most non-governmental and civilian society institutions in Armenia are less than adequate in getting their message beyond a certain group that has already developed an awareness of human rights: "Traditional methods of activism are not enough for us to reach the wider masses. It was at this point that we thought that the expressive power of art could help us, or in other words, could trigger action and reaction, and mobilise people. Instead of asking 'What is art?' or 'Is this art?', we began to ask ourselves, 'What can art achieve?' and set about work."
So how can one go beyond traditional activism? ArtAct has in fact already developed creative methods, and especially their determination to hold workshops to foster debate on sexual violence against women precisely in those streets where women face harassment, has created a new means of sharing.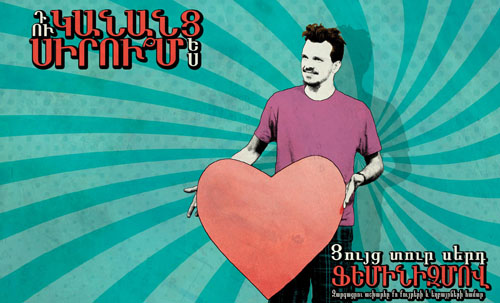 The anatomy of harassment
In recent weeks, at a workshop held at the huge chess board outside the Moscow Movie Theatre in central Yerevan, various forms of harassment was written on chess pieces, and people were asked how they would react if they were subjected to, or were witness to one of these types of harassment, what they would want to do, and what they failed to. An analysis will be carried out according to the age and gender of the interviewees in order to generate a profile of reactions to street harassment. For a map prepared for another project on street harassment titled 'Mi Lrir' (Don't Remain Silent) women mark the location they were subjected to harassment on the map, provide details and share their experiences.
While furthering its efforts to form platforms where women can actively meet and exist together, ArtAct continues to leave humorous and striking posters about women's rights and feminism in the collective memory of the internet.