We bid farewell to Sarkis Seropyan. His life of 80 years became more visible during his funeral ceremony, as tens of his friends accompanied Baron Seropyan on his final journey.
The first ceremony for Agos founder Sarkis Seropyan was held at the Feriköy Surp Vartanants Church.

Archpriest Tatul Anuşyan, President of the Religious Council, presiding over the funeral ceremony, underlined Sarkis Seropyan's honesty, courage and his outstanding qualities as a man of culture:
"Sarkis Seropyan was courageous, he transmitted everything he acquired with courage. He did not care what others may think as he read, researched and transmitted what he knew to be right. He did not abstain from speaking the truth. He did not stray from his path to curry favour with others. And he raised children loyal to that same path.
He transmitted his culture harvested from Anatolia to new and older generations. He did not speak much. Behind his serious appearance, as his friends know, were his cheerful eyes. He transformed his home into a hearth of culture."
"Every word he spoke had essence"
"Every word he spoke had essence. In this day and age, when we are besieged by people speaking nonsense, he did not deviate from the path of culture and tradition."
"He achieved so much in his life. We are happy to have known him, and we are full of sorrow to be deprived of his presence. It is God's blessing to be able to produce such momentous work. I pray that many more people of culture will emerge from our community."
Following the funeral ceremony at the Surp Vartanants Church, tens of people walked together to the former building of Agos where Baron Seropyan spent many years, applauding in respect of his memory. Yetvart Danzikyan, Chief Editor of Agos, and Pakrat Estukyan, editor of the Armenian section, commemorated him with speeches before the banner prepared by Agos staff in Turkish and Armenian featuring the words 'Good Bye Baron Seropyan'. 
"We used to go to him with a single question, and return with knowledge worth fifteen"
Danzikyan spoke of how much Sarkis Seropyan meant for Agos with the following words:
"Today, here, we bid farewell to a Baron, a brother, an ahparik. He strived and sweated to contribute to this world. His presence reassured both us, the newspaper's staff; and also those who came into contact with him. He was a profound source of culture we could always consult. We used to go up to our Sarkis ahparik with a single question, and return with knowledge worth fifteen."
"Baron Seropyan was also a great master of the Armenian language. But it would not be enough to define him only through that. He was a self taught journalist, and a very good one at that. He contributed greatly to Agos, from the day it was conceived, until 3 weeks ago. He was the living memory of our newspaper. We still had a lot of work to do together."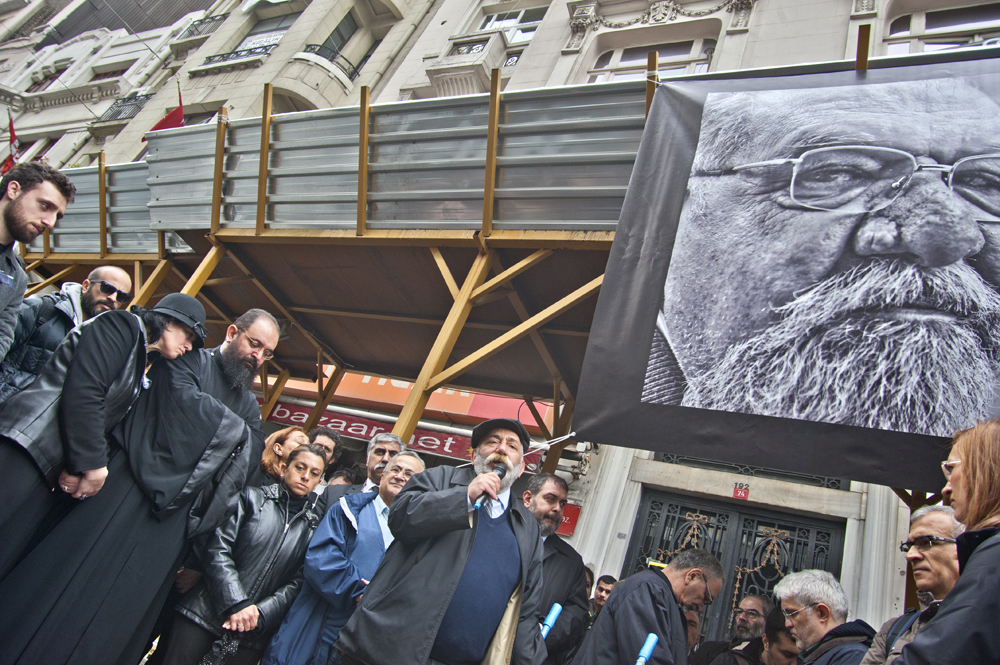 "Seropyan was a monument of revolutionary attitude"
Pakrat Estukyan spoke about Seropyan's revolutionary attitude:
"We, the Agos staff, are still in a state of shock. We face a void that is not easy at all to fill."
"He would only sarcastically say his profession was journalism. If Agos has been a revolutionary newspaper since its foundation, Brother Sarkis was a monument of revolutionary attitude, with his stance and work discipline."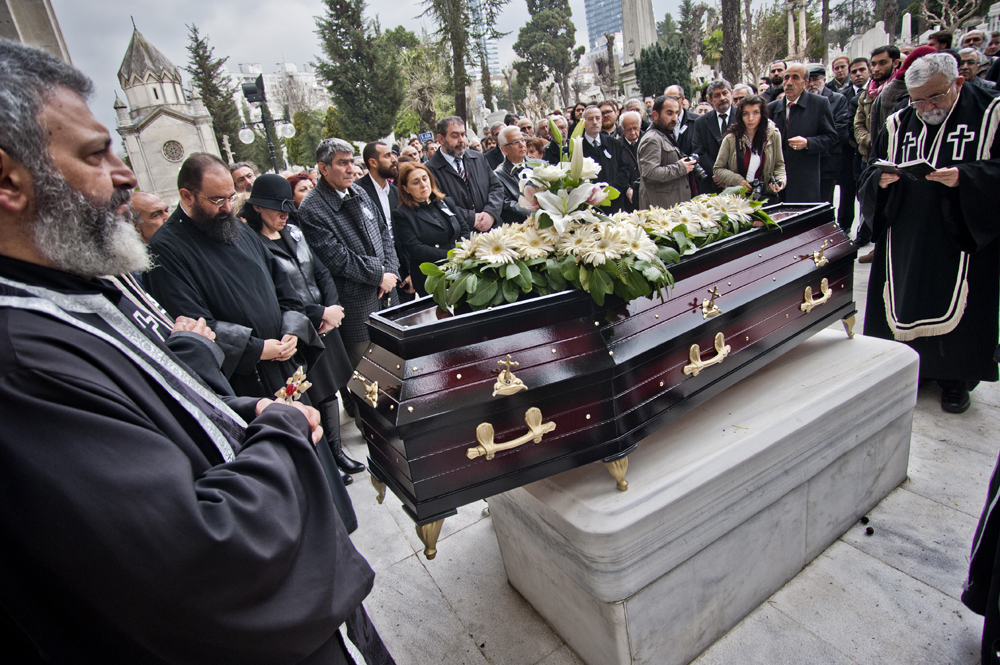 Following the ceremony in front of the former building of Agos, Sarkis Seropyan's burial ceremony took place at the Şişli Armenian Cemetery.