Access to Twitter, YouTube and Facebook has been banned across Turkey in the most comprehensive access blockage on social networks so far.
The official notification sent by the Public Prosecutor's Office to access providers based the decision on the broadcast of images of the murdered Prosecutor Mehmet Selim Kiraz being taken hostage.
Following the broadcast of images of the prosecutor's abduction, the judiciary issued a verdict to block social media. 
Youtube and Twitter are already widely inaccessible, while it is expected that access will be completely blocked to social media after TTNet, Turkcell, SuperOnline, Avea and other access providers are issued with the notification.
The Diken News Site published the official notification for access blockage on its web site: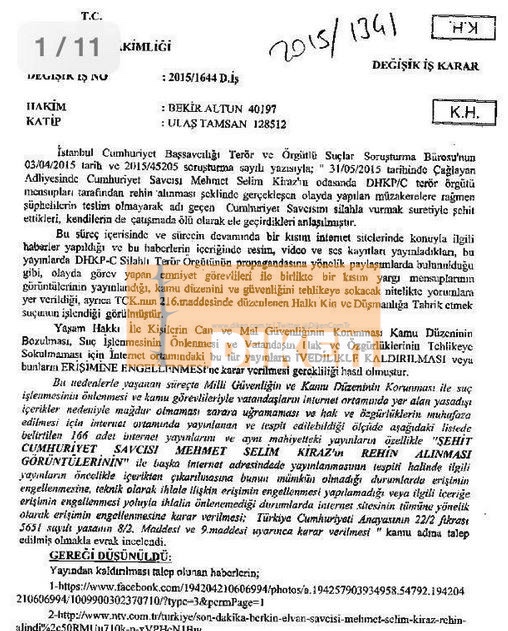 The omnibus draft law including new regulations regarding the Internet and health was accepted in the Parliament General Assembly on March 27. The law permits the blockage of Internet access within 4 hours upon the request of the Prime Minister or Ministers. Access blockage can continue until the undesirable content is removed. The decision for blockage is presented to the approval of a judge within 24 hours of, and the judge rules on the decision within 48 hours.
Categories News Turkey Press
Tags Censorship Internet Twitter Facebook press freedom YouTube