Taner Akçam's book "Forced Islamization of Armenians: Silence, Denial and Assimilation", which was published in Turkish in 2014, is translated to Eastern Armenian. We talked to Turcologist Meline Anumyan, the translator of the book, about Turcology studies in Armenia and the translation of Turkish books to Armenian.
How did you come up with the idea of translating this book? Do people know Akçam in Armenia?

For 7 years, I have been working in Research Center for Studies of Western Armenians' problems as the director of Turkish department. Since we conduct researches on the Islamized Armenians and their problems, we are interested in all researches, books, articles and even movies on this issue. When we saw Taner Akçam's book, we asked him if we can translate it to Armenian. He said that Jirayr Nişanyan Foundation in the US decided to translate the book, but they are still looking for a translator. He also added that he will ask them if I could the translator. Hence, we have this important book in Armenian now.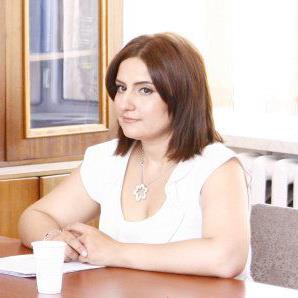 In Armenia, Taner Akçam is mostly known in academic and political circles. On the other hand, I can say that many non-historian people in Armenia know him, since not only historians or politicians, but everybody is interested in the Armenian Genocide. Furthermore, he is one of the first Turkish intellectuals who recognized the Armenian Genocide. He also carried out very important researches on the genocide.
Can Turcologists in Armenia access the publications in Turkey easily?
It is easier to access the works that are published in Turkey compared to the past. For instance, between 1994 and 1999, when I was a student in university, it wasn't that easy. There weren't many people going to Turkey and the internet was not that much common. So, I can say that new generation of Turcologists in Armenia are luckier. This also made the younger generation more interested in Turcology.
What is the condition of Turcology in Armenia? Does it have strong or weak aspects?
It can be said that Turcology is very advanced in Armenia. Since Turkish history is related to Armenian history, many academic institutions and research foundations study Turcology. These are mostly historical studies. Today, young Turcolgists are interested in Ottoman Turkish more.
The strength of Turcology comes from the fact that Turkey is our neighbor and as I said, Turkish history is related to Armenian history. These facts create an interest in Turcology. However, people are less interested in literature compared history and politics; this is the weak aspect. I guess it is usual given the current conditions and lack of relation.
What is the importance of translating the books of important writers to Armenian?
In my opinion, it is important for several reasons. Of course, Armenian Turcologists are mostly interested in historical books and works on Armenians. Thus, books on Armenian question and genocide draw more attention. This is normal. However, other Turkish books on different topics should also be translated.
For instance, the books on Turkish modern literature should be translated as well. With such translations, Armenians can get to know Turkey and Turks. Thus, my first translation from Turkish was a literary book: Hasan Erkek's book titled as "Eşik" (Threshold).
Why did you learn Turkish? Because you wanted to learn "the language of the enemy", which is the answer expected the by the most or "the language of the neighbor"? Why is the young generation interested in Turcology?
I learned modern Turkish and Ottoman Turkish mostly because I wanted to understand my history and what my ancestors went through better. My grandmother's grandparents were killed during the genocide and her aunt was kidnapped. These are my reasons. That is why I also learned Ottoman Turkish, which is very hard to learn. I translated a lot of documents about the Armenian Genocide from Ottoman Turkish to Armenian, which required hard work and patience, and the fact that my ancestors are genocide victims gave me the necessary strength and patience to achieve this. However, I think that Armenian question is not the only reason why the younger generation chooses to study Turcology today. For instance, when I was teaching Turkish literature in Hrachya Ajaryan University in Yerevan between 2008 and 2011, I observed that the students were studying Turcology, since Turkey is a neighboring country.