3000 kilometers along the Caucasus mountains, three countries and a long way passing through them... Transcaucasian Trail Association (TCTA), a Washington-based initiative, embarked to build one of the longest hiking routes in the world. The association is working with local partners for this hiking route, which is planned to pass through Armenia, Georgia and Azerbaijan. They want to improve ecotourism, create an exciting route for the hikers and provide a different perspective to Caucasus countries which seem like they will never come to terms because of the border conflicts. We talked to Vahagn Vardumyan, a member of Armenia team, about the project.
How did you come up with the idea of a trail route across Caucasus?

Some members of the team knew each other before, hiked together and came to realization that they could work together on development of tourism infrastructures. Some of them met because of a domain registration of the same name and then found out they had the same visions, and so on. So, perhaps the best way to describe the formation of this team is this: the mountains wanted to be united and they found the people to realize it. We have chosen Caucasus, which is an amazingly diverse area in many senses, because it just couldn't stay isolated for any longer and it was about time to open it up to the world. And the world is demanding a high-quality infrastructure, because hikers know what they need for enjoying their hiking, and once there appeared a group with shared visions and necessary expertise for creation of such a route, it became clear that it has to go through all the countries and unite the treasures they offer.
On what stage is the project now?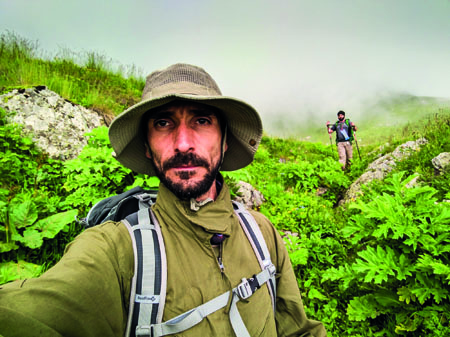 Currently, the main area of work includes exploration, scouting and mapping of the trail which consists of two parts, Greater and Lesser Caucasus Mountains. Also, in Armenia and Georgia, some existing trials have been explored and there is some trail exploration by independent hikers in Azerbaijan. The part that unites Armenian and Georgian trails is the Lesser Caucasus part and is about 1500 kilometers long. That part is now almost fully explored and we are in the stage of fund-raising for organizing a trail building camp next summer in Armenia in order to start the second stage of the project, which is the actual trail building. We are hoping to open up the first sections in Armenia and Georgia by the mid autumn 2017, depending on how much we succeed in our fund-raising campaigns. In other words, we need minimum one year from now for opening up the first few trails up to 120 kilometers long in one of the regions of Armenia, and hopefully something similar in Georgia too.
And, even though we are now focused on the 3 countries of the South Caucasus, our aim is to expand the trail towards Russia and Iran, because that is where the geography of the Caucasus mountains brings us, also considering the importance of the multicultural and peace building dimensions of the trail, which are very important and included in the philosophy of our international team.
How is a hiking route created? Are there particular things that should be considered in this process?
The design of a hiking route is a complex work which has to be done with consideration of many needs of hikers and local communities. For example, the route has to be interesting for hiking, not too high or too low, adventurous but not dangerous, safe but not over-built etc. We keep an eye on all the possible or existing camping sites, shelters of any kind, water sources etc, because all of those components are important to make sure the trail has everything a hiker may need. We also have to make sure that the trail doesn't go into big cities or even villages, because that is not what hikers want. At the same time, we have to make sure that there is a well-established network of sub-trails connecting the main trail to different local treasures like farms or gardens, parks and rural homes, B&Bs or temporary shepherd shelters etc in order to provide everyone the maximum choice and comfort.
In terms of hiking, how hard is this route? How long would it take to finish the entire trail?
The hike won't be too hard, but will be interesting enough with little challenges in some parts to make sure that hikers enjoy the mountains to the fullest. Those who come to hike in the mountains do not expect roaming in flat-lands, so they expect the kind of balanced challenging hikes that we are preparing for them. The Armenian part of the Transcaucasian Trail, which is about 800 kilometers long, will be possible to finish within about 4 weeks continuous hiking with average of 15-20 kilometers a day. The whole 1500 kilometers long trail from Georgia to Armenian,Iranian border will be possible to hike within about 2 months with the same average 15-20 kilometers a day. The whole 3000 kilometers of the Transcaucasian trail should be a job for 4 months good hiking then, but these numbers are yet quite approximate because more than the half of the trail is yet to be explored and we are not in a hurry.
One of the purposes of your project is to provide economic opportunities for local communities. How do you plan to achieve this?
We believe that it would be possible to build and maintain the trial only by maximum involvement of the local communities. Executing such an enormous project is not only about money, there is also need for organizational efforts, physical labor and resources. People living along the route are our envisioned co-creators, co-builders and the main owners of the trail, because they are the ones who will host the hikers in their community camping sites and homes, interact with them and take care of that enormous network. In order to achieve this, we need to help the locals to realize their importance and the different roles they can take, as well as the jobs they can create for themselves to make a living without having to leave their communities. Migration is a huge issue in the region and it has a lot to do with social and economic situation of these post-Soviet countries.
Our particular plans involve a lot of educational components as well. For example, the trail building camp that we are planning to have next year will be not only a practical building opportunity, but also learning by doing, getting all the skills required for creating trails in future and actually offering the local population a completely new job opportunity which is called "trail building". If you've ever visited any of the Caucasian countries and interacted with villagers, you may already know the number of the various masters and how much potential each village can offer. And that potential needs some management which is unfortunately not happening, at least based on what we see and hear continuously.
Are there ecotourism works in Georgia, Armenia and Azerbaijan? Do you have local partners?
We have many partners in Armenia and Georgia, and recently our American / Georgian team members got in touch with some potential partners in Azerbaijan. There is nothing concrete yet, but at least that is a start.
Ecotourism is mainly about bringing people to wilderness areas, where there can be various risks that should be eliminated for building a trail. In terms or ecotourism, Georgia is currently a few steps ahead compared to Armenia and perhaps also Azerbaijan, and we think that the main reason is that the Georgian state actually started providing diverse institutional support to the field of tourism, which resulted in many international standard tourist projects popping up here and there, including proper trail building, marking and maintenance, which brings more and more visitors to Georgia every year. Ecotourism in Armenia is developing in not very structured way, mainly by the efforts of local middle and small businesses that take risks and start initiatives without any noticeable support from the state, unfortunately. But the situation seems to change slowly, also because of a number of international organizations operating in Armenia and working closely with the Armenian state.
I believe that some of the trails you have explored might be centuries-old. Am I right?
There are thousands of trails across the region, created by humans and animals, some old and new jeep tracks inherited from the Soviet Union, and mixtures of those.
You can often hear about the ancient Silk Road in all the Caucasus countries, but unfortunately in most of the cases what you see in reality is a signposted area that is not a trail to hike. We have been actually exploring some of those very ancient trails with the help of local guides and found extremely interesting pieces of not only narrow single tracks but also wider paths for horses and even horse-carts.
The territory is also a region of conflicts. Do you think that it will be a problem for your plans?
Conflicts exist not only because of stupid politics and unfortunate historical events caused by stupid politics that took place some time in past, but also because of lack of knowledge and appreciation of the culture and values of each other. People tend to confront with what or who they don't know, as well as are not very resistant to professionally managed conflict stimulation that is powered by the same evil: ignorance. The idea of enemy deepens the gaps between neighboring or remote cultures. Projects like cross-border hiking trails are extremely good peacemaking tools because they make it possible for so many foreign cultures to actually walk into your home, yard or garden, and that is much more powerful way to stop conflicts even before they appear, or to heal the existing ones, than political methods. We believe that this trail will be a huge contribution to the peace and prosperity in the Caucasus, when it will start functioning; and even at the first stages of creating it, we already felt the potential of the peace it would bring. At the end of the day, when you are making your dinner on a campfire in the middle of wilderness, seeing those gorgeous mountains full of warm rays of sunset sun, you are nicely surprised to realize once more that for some reason you can't see where one country ends and the other starts, although you have all of the Caucasus countries in your view according to your GPS device. This is the reality about interacting with mountains that we feel all the time and we believe in. This is what we want to bring to reality and to let manifest.