On the 10th year of the murder, Hrant Dink is commemorated where he was shot.
Friends of Hrant invited people to the former office of Agos, where Hrant Dink was shot 10 years ago. 
KESK Chair Lami Özgen, EMEP Chair Selma Gürkan, EMEP members Levent Tüzel and Güven Gerçek, linguist Necmiye Alpay, academic Onur Hamzaoğlu are in front of Agos as well.
In addition to the sound of duduk, slogans like "Murderer state will be brought to account", "We are all Hrant, we are all Armenians", "This case won't end unless we say so", "You are my brother Hrant in spite of fascism" are also heard.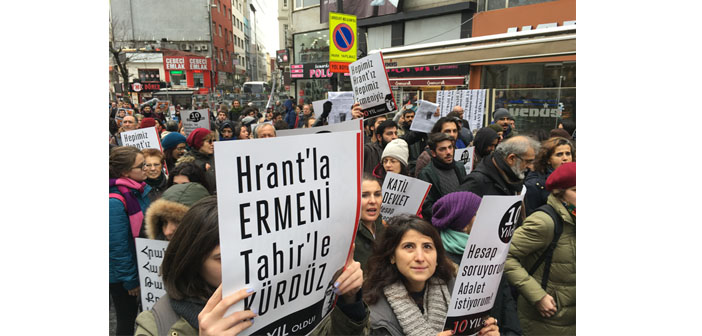 14.20: Bülent Aydın welcomes people who started to gather in front of Agos: "Friends of Hrant, welcome."

EMEP (Labor Party) Chair Selma Gürkan, CHP Istanbul MP Süleyman Çelebi and novelist Aslı Erdoğan are among the crowd.
Since the building where the former office is located is currently renovated, commemoration speeches won't be given on the balcony for the first time.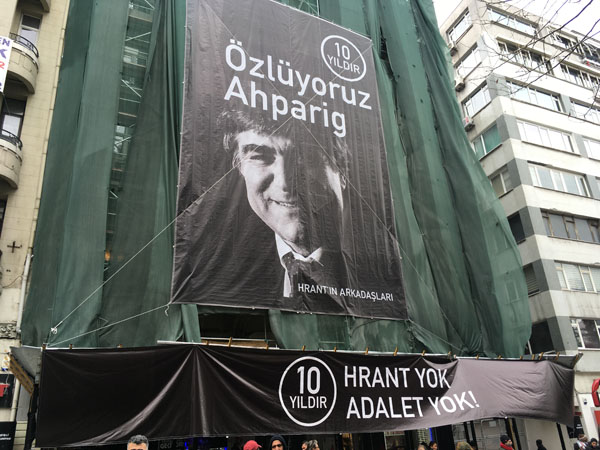 HDP Youth Branches, Nor Zartonk, Kaldıraç, ÖDP, AKA-DER, DAF, EHP, Halkevleri, HDK, Yeniyol and TKP marhched to Agos from Harbiye, shouting "We are Hrant for 10 years, we will have justice."