While child abuse is currently on the agenda of Turkey, another report about child abuse came from Jerusalem. With the child abuse happened in early '90s, Jarankavorats Armenian School in Jerusalem drew attention.
Hrayr Ezegelyan (38) declared that he was raped by clergymen while he was a student at  Jarankavorats Seminary School. This fact is revealed by a short documentary that is broadcast on Channel 10 of Israel. In the documentary, Hrayr Ezegelyan told about his story and after many years, found the clergymen who raped him. 
While there are contradictory reports about this incident in the press, I listened to Hrayr's story from himself. Hrayr told about how he went to Jerusalem, the troubles he went through and Khad Cunduryan (Armen Sarkis Cunduryan), Dimitrios Ataryan (Vahe Ataryan) and Davit Sahakyan who are the clergymen that raped him. He also said that he tried to talk to Armenian spiritual leaders before the documentary was broadcast. 
Hrayr Ezegelyan began to tell his story starting from his childhood: "I was born in Bourj Hammoud, Lebanon in 1977. In 1989, while I was 11 years old, I came to Jerusalem. I had an extended family in Lebanon. My life was good, but the schools were closed because of the war. At that time, two clergymen, one of them was a deacon, told my family that I can study in Jerusalem. With the approval of family, I stayed at  Jarankavorats Monastery in Jerusalem for 3 years. Then, the church brought my father to Jerusalem as well and gave him a room in the monastery and a carpentry job. After a while, my sister and mother also came to Jerusalem. My sister got married to a Jerusalem Armenian. I am 38 years old bachelor. The reason is of course the trauma that I went through."
"He raped me in his office"
Hesitating for a second, Hrayr Ezegelyan continued to tell the things that he bottled up in one breath: "While I was in Jerusalem, Davit Sahakyan started to work as the chief director (lusararabed) and chief supervisor. He had supervisors too. However, both he and his supervisor sexually abused me. Chief director Davit Sahakyan moved to Lyon in France.
There are the chief director (lusararabed) and the patriarch in the church. In some Armenian churches, the chief director has more authority than the patriarch. It is not the case in Etchmiadzin, but in Jerusalem, the chief director has the same authority with the patriarch. The chief director Davit Sahakhyan was the first one who raped me. Sahakyan raped me in his office. Then, I was raped by Vahe Ataryan. Today, he works in Greek Orthodox Church in Sao Paulo, Brazil under the name of Dimitrios Ataryan. In the documentary, you can see that we went to Brazil and found him."
"It was unbearable"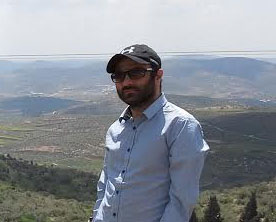 Hrayr kept telling his memories about those years, which traumatized him: "Now, it is Khad Cunduryan's turn. It was unbearable. Most of the scars in my soul is caused by that man. Unfortunately, I will carry those scars until I die. Khad Cunduryan kept saying, 'Your semen is sick. You won't be able to have a child.' Back then, internet was not common and people didn't have a habit of seeing a urologist. Even a 40-year-old would believe such a thing at that time. Besides, I was 12 years old. He  made me think that I am sick. And he was saying all those things with a cross in his hand.
And they made such a man the director of Church of the Nativity in Bethlehem, which is the birthplace of Jesus. And instead of stripping him of his title, they make me suffer."
Newly-assigned spokesman (divanabed) of Church of Nativity told Ezegelyan that Khad Cunduryan is dismissed, but he didn't say the reasons. Stating that Khad Cuduryan raped him for years, Hrayr said, "They didn't dismiss him. That is what they say, but he is still in Bethlehem."
"How could they still defend him?"
Hrayr told about the monastery in which he still stays once in a while: "The monastery (vank) I am talking about is in the Armenian neighborhood. People don't pay rent for staying there and the taxes aren't collected from them. That is why many secular people also live there. While the monastery hosted around 6000 people in the past, there are a few hundred people living there now. I used to stay in that monastery too. After I came to Israel, I had been a student in Jarankavorats Seminary School for 3-4 years and then, I moved to vank. Now, they are threatening me with expelling. However, what they have to do it stripping Khad Cunduryan of his titles. I cannot understand their reasons. I am not the one who is a pedophile. I am the victim. Given this fact, how could they still defend him? Why don't they strip him of his titles? This is hard to understand. This is a great pain both for me and for my people."
"I could have became a spiritual leader"
Hrayr pointed out that he tried to talk to Armenian Patriarch of Jerusalem for several times, but he couldn't have managed to do it. "Another thing that bewilders me is that Armenian Patriarch of Jerusalem Archbishop Nurhan Manukyan, which we call him our spiritual leader, has never cared enough to say, 'I want to listen to you and learn what you have been through.' Our Patriarch Nurhan Manukyan often goes to Istanbul. I followed him there and visited him in the hotel he stays. I tried to talk about my troubles, but he didn't listen to me and refused to talk about this issue. I tried to talk to him twice, but it was in vain. My lawyer also tried to contact to him, but he hasn't received any response yet." Being unable to find comfort in clergymen, Ezergelyan said: "I am not only a member of Armenian society, but also a former student of  Jarankavorats. If they wouldn't have harmed me psychologically, I could have became a spiritual leader. I could have became an high priest. I run away from there because of my 'scars'."
"God help you"
A former student of Armenian seminary school searched for authorities to resort to for years: "I talked to high priests. I talked to Torkom Manukyan, who was the Armenian Patriarch of Jerusalem at that time, I said that I was sexually abused as a child, I told my story. He told me, 'I am aware that such things are happening, but I didn't know about you. God help you.' I have the record of this conversation."
"Armenian children should be safe"
He is also angry about the rumors claiming that he has a relation to Israeli government: "They say that the Jews have got my back and they are trying to destroy the Armenian Church. This is a mentality that I cannot understand. I went to Israeli police, because I am in Israel. If I were in Egypt, I would go to Egyptian police. There is nothing wrong with that. For years, I kept saying, 'Dismiss this pedophiles from the church. I want a clean church. Armenian children should be safe.' This is my only fear: I don't want any child to go through what I went through."
I asked him whether it is true that he went to France, talked to Davit Sahakyan and recorded his conversation with him. He said: "Yes, it is true. He apologized. He told me that he did the same thing to other children and added that he hasn't abused anyone in France. He said that he abused children in Jerusalem, because it was forbidden to be with women in the monastery. I asked, 'If it is forbidden to be with women, is it okay to rape children?' He said, 'This is what happened.'"
Pointing out that it took 2.5 years to file a complaint against Sahakyan, Ezegelyan said: "Archbishop Sahakyan describe his abusive behavior as 'fatherly affection'. In the expert report, it is stated that Sahakyan is a threat to society, because he doesn't consider what he did as a 'crime'."
Hrayr Ezegelyan sent the expert report that he mentioned to us. Written in French, the report confirms his story. Davit Sahakyan died on March 16. He was a renal patient and by refusing to be treated, he killed himself in a sense...
"Nobody wants to talk about this issue"
I tried to contact to Armenian Patriarchate of Jerusalem in order to talk about this issue. However, the person I managed to talk told me, " Nobody wants to talk about this issue." According to azatutyun.am's report, Khad Cunduryan was dismissed 3 weeks ago. After the documentary was broadcast, Armenian Patriarch of Jerusalem Nurhan Manukyan and administrators formed a committee for investigating the issue. After the investigation is completed, the patriarchate will make a statement.