Pope Francis' 3-day visit to Armenia has ended. Defining what happened in 1915 as genocide once again, the Pope made a call for Turkey and Armenia "to build bridges, not walls" at their frontiers.
On Friday, Pope Francis gave a speech after President Sargsyan hosted him in his presidential palace. In this speech, the Pope defined 1915 events as genocide.

Reminding the mass that he held in Vatican last year on the occasion of 100th anniversary of the Armenian Genocide, Pope Francis said: "Sadly that tragedy, that genocide, was the first of the deplorable series of catastrophes of the past century, made possible by twisted racial, ideological or religious aims that darkened the minds of the tormentors even to the point of planning the annihilation of entire peoples."
Pope Francis, at the mass that he held on April 12, 2015, said that 3 major tragedies happened in the last century and what happened to Armenian people is considered as the first genocide of 20th century.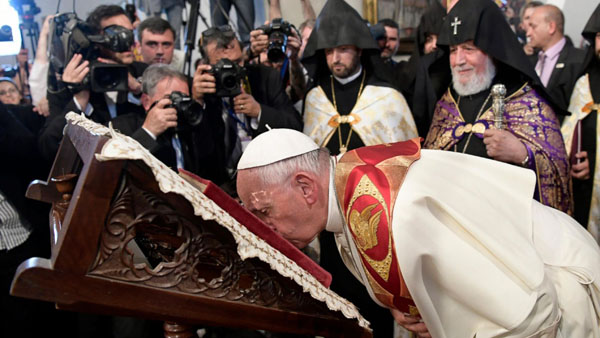 Sargsyan: We don't look for culprits
President Serzh Sargsyan said, "Throughout the voyage of our millennia-long history, the Armenian people have faced many hardships — from Genocide and foreign oppression to indifference of friends and denial," and added: "We don't look for culprits. We don't spread accusations. We simply want things to be called by their names, as it will allow two neighboring peoples to move towards genuine reconciliation and a shared prosperous future by recognizing the past and embracing forgiveness and a clean conscience.
"Today, Armenia still aspires for peace. In any event, we prefer peaceful negotiation to shooting. We are ready for peaceful regional coexistence, as hard as the road to peace may be. It is perhaps because durable peace is based upon the idea of people's freedom and free expression of will."
Meeting with orphans in Genocide memorial
On Saturday, Pope Francis attended the mass in Gyumri. After that, he headed to Genocide Memorial and prayed.
Planting a tree on the monument, the Pope met with orphanes who were saved by Rome.
Heading back to Yerevan, the Pope made a statement in front of Mount Ararat. Addressing the younger generation, Pope Francis said, "Cherish the great wisdom of your elders and strive to be peacemakers: not content with the status quo, but actively engaged in building the culture of encounter and reconciliation," and added: "May God bless your future and grant that the people of Armenia and Turkey take up again the path of reconciliation, and may peace also spring forth in Nagorno-Karabakh."
Doves towards Mount Ararat
On Sunday, Pope Francis attended the mass held in Etchmiadzin. Talking about the closed Armenian-Turkish border, the Pope made a call for Turkey and Armenia "to build bridges, not walls" at their frontiers.
After the mass, Pope Francis and Catholicos Karekin II headed to the nearby historic monastery of Khor Virap where they prayed together and released two doves towards Mount Ararat, which is located just a few kilometers away from Turkey.