It has been almost a year since October 10 Ankara Massacre. The case of the massacre, which left 102 dead and 391 wounded, will start on November 7 without the public officials included, despite all the objections of the lawyers. We talked to the survivors of the massacre. Accounts of Gülşen Ay, Uğur Erman Karakoç, Elif Zavar and Bahadır Kılıç are like similar but disparate parts of the same harrowing story.
Gülşen Ay remembers the day of massacre as "a sunny and joyful day". When they saw the rally site with her cousin, she said, "I think there will be peace." When she was wandering around, she came across with her friends from HDP Üsküdar office. She checked her watch; it was 10.00 am. "The first explosion took place. All of my six friends that I have greeted a moment ago died. With the power of the explosion, I was swayed away. I looked around thinking what is happening. Then the second explosion came. A torn-off leg hit my face. There was a young boy around 17. I reached to him, he was about to say something, but he couldn't. I wonder what happened to him. Most probably, he is dead."

"The only thing I want is to smile wholeheartedly once again"
A piece of foil stuck on her left leg and clusters to her right leg. She is still being treated. "My legs were wounded, but the real wound is on my soul," says Gülşen. "When I was walking on the street, I was feeling like all buildings will explode, or when I was sitting in my living room, I was thinking that the bombs will come through the windows. Now I don't feel like that, maybe because of my medications. However, every night when I go to bed and every morning when I see the sun behind the curtains, I remember that day. Autumn was my favorite season. However, most of my friends lost their loved ones in autumn. I feel so sad... The only thing I want is to smile wholeheartedly once again. I wonder whose leg hit my face and what that boy wanted to tell me. I always think about these things. How can I forget?"
After the massacre, authorities declared that a circular letter will be issued soon, the medical expenses of the wounded people will be covered by the state and the survivors and the families of the victims will be considered as "victims of civil terrorism". However, in a year, many wounded people had to cover their medical expenses themselves. Some people said that they didn't have any trouble because "the hospital administration is nice", some people received high bills and some other struggled to have medical reports issued. The state doesn't cover the psychological treatment, they only care about the physical problems. People have psychological support thanks to Human Rights Association's program. Gülşen is one of them. Though she started to feel a bit bitter, she is having nightmares again with the approaching anniversary of the massacre. "I am outraged, but I try not to lose my hope. The morning comes after the darkest moment; this is my hope. Cruelty cannot last forever."
The first hearing of Ankara massacre will be held on November 7 in Ankara, but Gülşen cannot decide what to do. She doesn't know if she has enough strength to bear to be there and she also promised herself not to go to Ankara ever again. She tells the stories of the families of her deceased friends. "We owe to all of them," she says. While the day of hearing is getting closer, the criminal complaints against the public officials are dropped on the ground that there is no "neglect of duty".
"I feel my leg hurting after every bombing"
23-years-old Uğur Erman Karakoç was a student in Hittitology Department in Istanbul University. We speak in past tense, because he hasn't been to school for a year and the school penalized him because the demonstrations he attended before. He wants to become an academic, but he thinks that he won't succeed in doing that because of the penalty. Up to now, he had 7 surgeries and stayed in the hospital for almost 6 months. His leg almost broke to pieces because of the clusters. He smiles and says that a surgeon wanted to amputate his leg, but another surgeon that his father knows saved him. On November, he will start physiotherapy. For now, he cannot feel his wrist and sole.
Uğur was 3-5 meters away from the second explosion and one of the first ones who were rushed to the hospital. After the police forces threw tear gas, people carried him with a stretcher made of canvas banners and he was taken to the hospital by a traffic cop. He is still being treated. For covering his medical expenses, his friends organized a donation campaign. After being treated thanks to donations for a while, he has difficulties again. He is also having psychological support: "We have festering wounds in our bodies and souls. And they will never heal. I feel my leg hurting after every bombing. My friends and family say that I wake up with a start. People were complaining that I don't see them. The other day, I saw Cafer (Cafer Altun lost a leg in the massacre). I cannot bear to see him. I, Cafer and Günay (Karakuş) are university students. We were hopeful about the future. We either lost a part of ourselves or our loved ones. I lost 16 friends in the massacre. You cannot get rid of that psychological state. When I hear words 'October' and 'ten' in a sentence, I start to think about the massacre all over again." The therapist said that they would be done in 4 or 5 session, but now, it's his 40th session. As they were talking about the massacre, his homeland Dersim and evacuated village came to surface.
Uğur is an intervening party of the massacre case, but his complaints against the public officials are dropped. "Our purpose was to reveal the state's responsibility in the massacre. If the public officials stand trial, they would start to expose one another." He often remembers what the surgeon who saved his leg told him: "You are a lucky boy despite all unfortunate events." He bonded with her father all over again and met new people and he is so humble that he considers these developments as "the bright side" of what happened to him.
"Malevolent people took the stage and we stood back"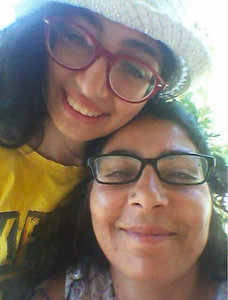 Elif Zavar is married to Erol Zavar, who is a sick prisoner under arrest for 16 years. She was in Ankara with his daughter Özgecan on October 10. Clusters stuck in 16-years-old Özgecan's back, rupturing her artery and veins. Her collarbone was broken. She was temporarily paralyzed and had 2 surgeries. For about a month and a half, she started to write again. The doctors say that her treatment will last for 3 more years. Elif's throat was ruptured and has facial paresis. Elif says that she has been receiving psychological support from Human Right Association because the wearing process of her husband's imprisonment and she had no difficulties in receiving treatment because she has insurance. However, she says that she knows people who are fired during the treatment. And, like any other survivor, she says that the real wound is on her soul: "You cannot understand what seeing that scene feels like. Seeing all of those people around dying... Our souls cannot be healed..." Despite terrible anxiety and fear, she attended May 1 demonstrations. She thinks that she could not overcome this if she doesn't press the issue. And she thinks that all of these happened because people stayed silent and got accustomed to terrible events: "If we were brave enough to raise our voice for Reyhanlı, then Suruç wouldn't have happened. If we were brave enough to raise our voice for Suruç, then Ankara wouldn't have happened. Now, there is a vacuum, which is unfortunately filled by malevolent people, and there is no room left for us. This won't change as long as we keep standing back." Elif had always been hopeful, despite all the trouble she went through, but now, she says, "I guess I feel desperate for the first time."
She will go to the hearing in Ankara; not because she thinks that something good will come from it, but because she wants to share the outrage of the people there: "I am not sad, I am outraged. If I were sad, I would have been accepted what happened. I cannot accept it. I lost my friends that I had been knowing for years. I feel guilty because I survived. I feel like I stole the life of somebody else."
"I went to Ankara and updated the image of the moment I fell down"
Bahadır Kılıç was about half a meter away from the second suicide bomber. He survived with almost 100 pieces of shrapnel stuck to his body. He is a freelance photojournalist, contributes to Evrensel and takes commercial photos. He hasn't been able to work for a year. Like the others, he says that "it was like a carnival" before the explosions. They came from Istanbul by bus. Normally, they were greeted by undercover police officers and anti-riot vehicles in every rally. That time, they didn't see any of those, but they didn't suspect anything: "My friend Gökmen Dalmaç said, 'They probably don't care. Police forces might attack, but that's all.' My friend Gökmen died there." After the first explosion that took place 30-40 meters away from him, he remembers that he shouted, "Gökmen, there is a bomb" and then the second explosion took place. What happened after is vague... "I remember an incredible heat, pressure and silence. I flied away, then got up and checked if I had a missing part. There were bones stuck to my body. A burning smell; smell of blood and flesh. It was the most terrible smell. I feel that smell in every explosion. Right after the explosion, police attacked." Most of his intestines and his peritoneum were removed. He lost an ear. Surgeons weren't able to remove 30 pieces stuck to his body, he says, "We're going to live together."
He went to Ankara about a month after the attack. He took the train in order to see the station, where the attack happened: "The moment I fell was in my memory as an instant. Every time I closed my eyes, I saw it and I couldn't sleep. I went to that part of the square and updated the image. People were going to work, waiting on the stop, cars, sellers... I sat there for about an hour and then I was normal again." Nevertheless, he cannot be in crowded places. Once, he was feeling very secure in rallies, now he doesn't feel like that. He cannot go to concerts or walk through the crowded streets. "I am aware that it will take a lot of time to heal, but we try to live by getting used to what happened."
Bahadır will go to the hearing, but he doesn't expect justice: "There is no government officer in the indictment. It is an unrealistic file. I think we have to call people into account anywhere but the courtrooms, if we are ever to to do that."